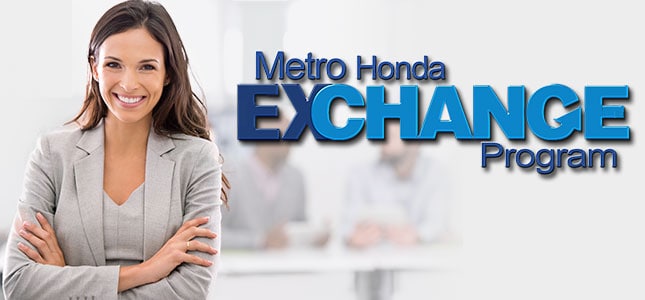 At Metro Honda we use a sophisticated software program that matches your current vehicle to used car market demands, Honda incentives, and automotive rates. The Exchange program determines your best trade opportunity for high trade values, large discounts, incentives, and lower payments in moving to a new Honda.

How does it work?

Our Exchange software is built on algorithms that monitor used car market supplies, and current financial rates. Each day, the software scrubs our data base for current owners who match up to very select criteria. A match indicates that you are in a favorable position to trade into a new Honda and likely keep your payment the same.

What does this mean to you?

An incredible deal on a Honda. Everyday we Exchange customers into New Hondas, with full warranty, zero miles, and we lower their current payments! That's right, it is that simple.

Do I have to pay for the service?

It is a completley free service. In addition with the equity our software indicates on your current vehicle, most customers Exchange into a new Honda with zero cash out of pocket while paying off their current loan.

How do I find out what my current vehicle position is for Exchange?

FIRST, our Exchange software is continually searching our customer data base for matches in the market place. We notifiy every customer that is currently in an Exchange postion. These incredible deals are market sensitive, and therefore time senstive. If you recieve a notification from Midlands Honda, please review the offer. You will be amazed.

SECOND, we provide customers who are not in our data base complete access to our Exchange program. Simple contact our Exchange manager to receive a full diagonstic of your current vehicle's position related to market demands, Honda incentives, rates, and pricing on the Honda vehicle of your choice.


Who do I ask for to get information on an Exchange evaluation?

You can contact our Exchange Program Director directly at 704-220-1500, or complete the information on the right and she will contact you. Just provide her some basic information, and she can have your results in 30 mins.

Our Exchange program takes the guess work out of trading your vehicle.